The Hemp Bakers' mission to create the best tasting hemp-based CBD products in the world heavily drives the product design process. The reported medical benefits of hemp oils rich in cannabinoids like CBD are well documented, its bitter and heavy plant aroma are also well known. We believe better tasting affordably priced edibles will not only introduce hemp oil to a wider audience, but also help destigmatize a growing industry looking to improve overall well-being at its core.
With our mission in mind, overcoming the bitter taste and cannabis smell is goal number one, two and three.  And, by the way, full visibility of the hemp plant from seed to oil then powder meeting our strict cannabinoid criteria is the starting point. The solution came through a collaboration of two likeminded companies in Hemp Synergistics and 5 Generation Bakers, makers of Jenny Lee Swirl Bread®.
Hemp Synergistics is a biotech company who produces hemp-based ingredients for the nutraceutical and functional foods markets. Their team is an amalgam of CEO's and executives from the medical cannabis, snack food, marketing and wellness industries whose mission of creating intelligent ingredients helped us reach goals 1, 2 and 3.
Hemp Bake Mix is the active ingredient used in all Hemp Bakers' products.  The mix is made from a simple starch, fiber and CBD rich hemp oil.  The result is a tasteless source of CBD that withstands baking temperatures. It's also all natural with no gluten, preservatives or THC (the cannabinoid that makes you high and possibly fail a drug test).  The Hemp Bake Mix is so versatile, you can mix it right into any existing recipe.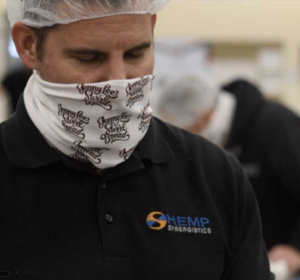 Enter 5 Generation Bakers.  Founded in 1875, it has been run by five generations of the Baker family in the McKees Rocks neighborhood of Pittsburgh, PA.  Their generations old cookie and brownie recipes are the perfect hosts for a meeting between tradition and technology.
You'll taste the tradition in our classic CBD Cookie and Brownie while feeling the difference of CBD from high quality hemp oil without the taste, smell and stigma of its predecessors.
Mark Mangieri
Product Designer